Outplacement Services
Are you preparing for restructuring efforts and want to ensure a successful transition with outplacement services available for the individuals transitioning?
Our mission is simple. We are committed to providing the highest quality outplacement services while helping businesses transition their workforce toward fulfilling careers and simultaneously reducing risk. We offer outplacement services to Clients at all levels within a wide array of industries.
Our Approach
Our approach is different. A common concern with outplacement services is relevance to today's competitive job market and providing services tailored to individual needs.  Each transitioning individual has a Personal Career Coach providing customized plans based on their specific needs as we partner with them to determine next steps in their career journey. We focus on personal branding that is attractive to prospective employers, creating the right networking opportunities, and developing a job search strategy in line with today's job market. Our resumes emphasize quality content, key word optimization and user-friendly design and flow.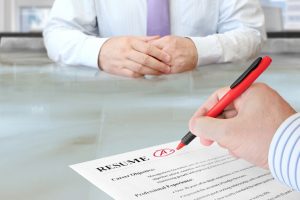 Experience
We have extensive experience with plant and facility closures, restructuring efforts, mergers and acquisitions. We are sensitive to the challenges management faces and how important it is to help our transitioning individuals look forward. It's never easy to be told your position is eliminated. Our Coaches are 100% committed to providing expert job search and career advice, exploring opportunities and partnering to develop a proactive plan of action that helps individuals look forward and take control of their future.
Why Partner with NY Resume, Interview & Online Prep
What differentiates our company is that each Client has their own Personal Coach and the areas of focus are tailored to their own experiences, personal career goals, skill levels and developmental opportunities necessary to jump start the Clients job exploration and search strategy. We offer cost competitive outplacement services while providing the individualized attention that is critical to help a successful transition.
We focus on the most important components of a successful job search in this competitive environment.
Personal Career Coach
Master Interviewing
Personal Branding & Online Presence
Networking Strategy
Job Search Strategy & Opportunities Exploration
Negotiation Skills
We provide a variety of different programs based on company outplacement needs and have the flexibility to customize programs to meet your organizations specific needs and what you have determined is best for your workforce.