Outplacement Services
Are you preparing for transformations in your workforce? Does your organization want to ensure a successful transition with outplacement services available for the impacted individuals while simultaneously limiting company exposure?
Our mission is simple. We are committed to providing the highest quality outplacement services while helping businesses transition their workforce toward forward thinking career goals. We offer outplacement services to Clients at all levels. While navigating through change, you want to maintain the dignity of your employees and demonstrate your commitment to supporting their successful transition. We can help.
Our Approach
Our approach is different. A common concern with outplacement services is relevance to today's competitive job market and providing services tailored to individual needs.  Our services are customized based on specific needs and marketable skills of each individual. We explore their future career goals and develop their marketing tools accordingly. We focus on personal branding that is attractive to prospective employers, creating the right networking opportunities, and developing a job search strategy in line with today's job market. Our resumes and LinkedIn profiles emphasize quality content, key word optimization and user-friendly design and flow. Interview coaching prepares individuals to practice their elevator pitch, tackle tough interview questions and address the various elements of interview preparation.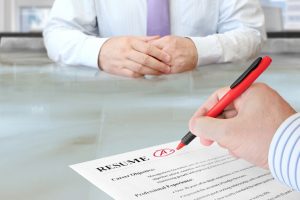 Experience
We have extensive leadership experience at the front line, managing in times of uncertainty, plant and facility closures, restructuring efforts, mergers and acquisitions. We are sensitive to the challenges management faces and how important it is to help your transitioning employees accept the changes and move forward. A Human Resources leadership background coupled with in depth career coaching experience gives us a unique advantage in our outplacement services offerings. It's never easy to be told your position is eliminated. Equally important, we are 100% committed to providing expert job search and career advice. Exploring opportunities and partnering to develop a proactive plan of action that helps individuals take control of their future is a vital step.
Why Partner with NY Resume, Interview & Online Prep
What differentiates our company is customization and a commitment to service designed to bring out the unique skills that make each candidate special. Equally important, we help build their confidence so they can put their best foot forward during their job search. We offer cost competitive outplacement services while providing the individualized attention that is critical to help a successful transition.
Our personalized and exceptional service is demonstrated by our perfect 5 star google rating.
We focus on the most important components of a successful job search in this competitive environment.
Personal Career Coach
Master Interviewing
Personal Branding & Online Presence
Networking Strategy
Job Search Strategy & Opportunities Exploration
Negotiation Skills
Our Standout Resume service focuses on results, your unique skills, and high-quality content to help pass through the initial resume screening (ATS) and catch Hiring Managers' attention.
Master Interviewing makes it easy for Clients to tackle those tough interview questions that trip up most candidates and Nail that Interview.
Personal branding to maximize Networking opportunities.
Job Opportunities Exploration to identify and execute job search strategy.
Company Needs and Budgetary Considerations
We are committed to providing high quality outplacement programs that are relevant to today's competitive job market incorporating branding presence and relevant job search strategies that are customized to meet your company needs and budget.
We have the flexibility to customize programs based on what are the best solutions available for your workforce.